Description
2200nm 250mW E0250 MMf200
General Description

The m2k-BA-1940-E0500-MMF200 is a mid-infrared diode laser module
which is used in medical applications, illumination, materials processing
or pumping of mid-infrared solid-state and disc lasers. The unique
brightness and efficiency of the module is achieved by broad-area, gain
guided lasers based on the (AlGaIn)(AsSb) material system, epitaxially
grown on GaSb substrates. The module is designed for passive cooling
and is equipped with a SMA905 connector. The module is based on the
unique micro-optics technology of INGENERIC.
Output power: 500 mW
Wavelength: 1940 nm
Fiber diameter: 200 µm
Fiber NA: 0.22
Connector: SMA905

Advantages
high brigheness
nominal output of 250 mW
fiber diameter 200um
fiber NA 0.22
compact package
passive cooling
standard and customized connector
optional pilot beam @ 635nm
options
The BA-2200-E0250-MMF200 is offered optionally with pilot eam and monitor photo diode
The module may be delivered with the SMA905-F200.022 fiber in alength of 2.0m
On reuest we would be pleased to develop and manufacture fiber coupled diode laser modules with customized design for your specific application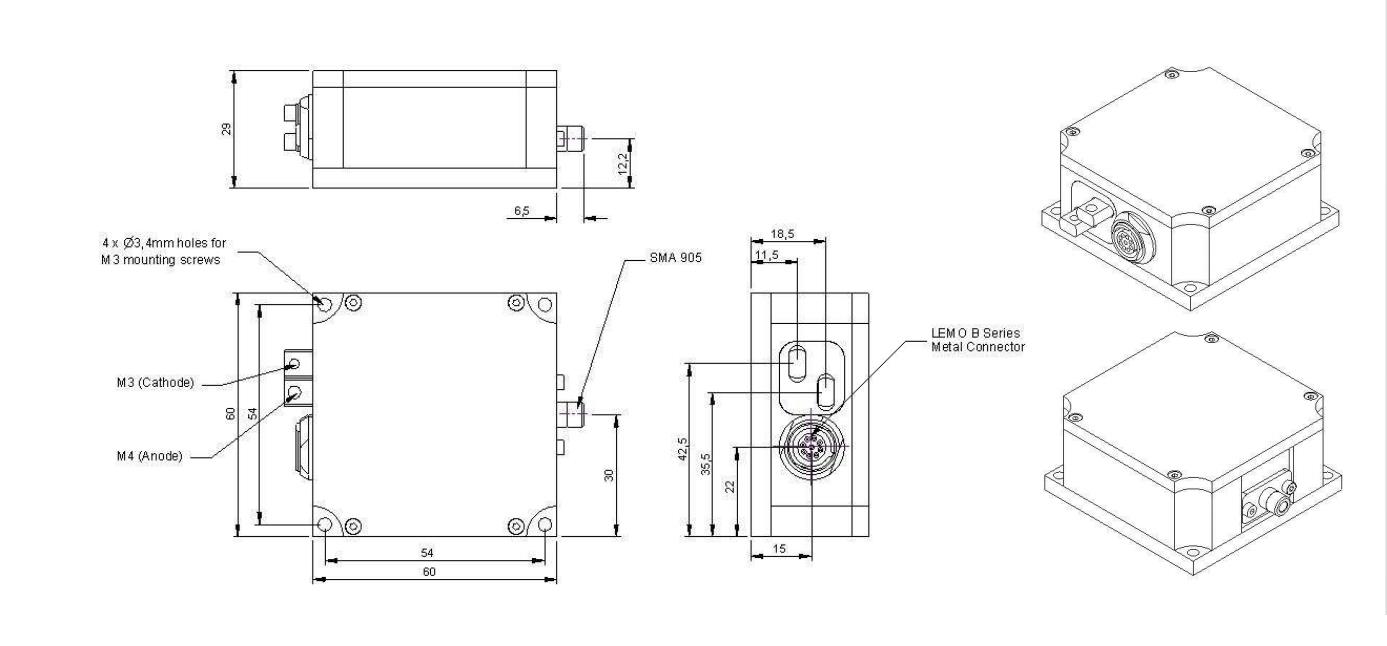 Specification Data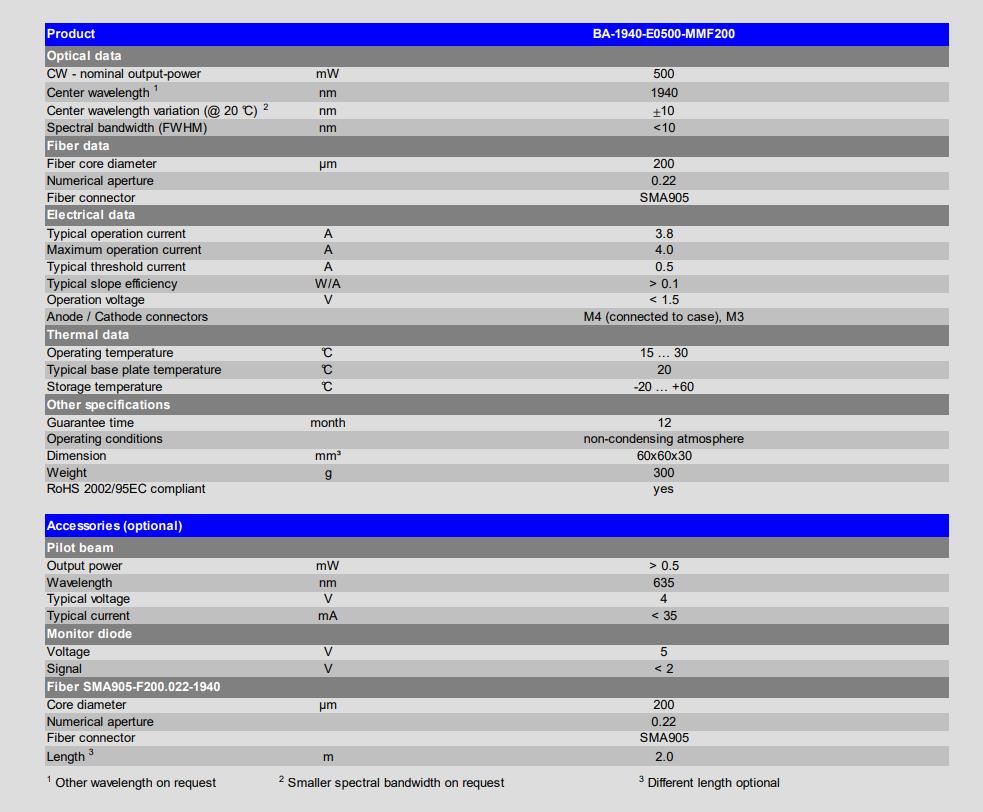 Safety
This is a laser class IV product according to IEC – Standard International Commission (Publication 825, 1993). The laser light emitted from this laser diode is invisible
and/or visible and is harmful to the human eye. The safety regulations for eye and personell protection included in the IEC Standard must be observed to avoid any harm
to operating personell. Avoid direct exposure and looking into the laser diode, into the collimated beam or into the fiber when it is linked to the module.

Storage and shipping
Store and ship the diode laser with shortened electrical contacts, in a clean and dry atmosphere and in a tempertaure range of 0°C to 60°C.

Operation and handling
Diode lasers are extremely sensitive to over-voltage. Take extreme precaution to avoid electrostatic charges. Precautions against spiking during switching on and off the
power supply must be assured. Correct polarity of power supply must be assured. During handling personell has to wear wrist straps. Grounded work surfaces and
additional antistatic techniques are mandatory during handling.
Device failure and safety hazard are caused by operation in excess of maximum ratings. Exceeding output power and temperature specification will result in accelerated device ageing.
Do not mount via any paste-like media!